You likely already know of some of the benefits gained by slow, mindful movements combined with conscious breath, such as in yoga. Walking meditation can offer similar benefits: slowing the mind, relaxing the heart rate, clearing of thoughts, overall calming of your entire being. And it can feel so good. Folks who may have difficulty with the more common forms of meditation sometimes find walking meditation to be their answer.
As you focus on the walk, gently yet fully, the mind and the breath settle into a rhythm with the step. At Well Nest we have the rock garden area, the earthing rock garden, and the tea house. Come for a walk. And see what happens.
---
The Tea House
From Dr. Rick: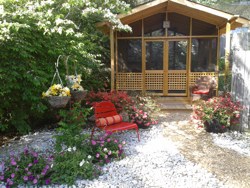 The "Tea House" has been a dream of mine for quite a while now, and it finally came together in time to launch the fifth year of Well Nest services. What started as a conversation about a small screened-in patio - mostly to be free of the mosquitos and other little biting critters during the warm months - evolved into the loving creation of a separate space for healing, meditation, conversation, communing with nature, and relaxed social gatherings.
It was built mildly in the style of a Japanese tea house, with influences that encourage a zen-like atmosphere and quiet pondering. And it's tucked right up against the trees to invite Mother Nature in to join us, as we keep company with creatures ranging from beautiful red cardinals to scampering squirrels. The tea house is angled specifically to take advantage of the colorful sunsets visible through the trees for most of the year. Behind, we see a lovely dogwood tree. And all around are the rock garden with benches and a fire pit, the lush woods, and an area of river rock for earthing and reflexology. The rocks feel wonderful when walked on barefoot. The tea house and rock gardens truly feel like energy-gathering places, and are prime spots for practicing Qi-gong and Reiki.
Well Nest's two mascots, Betty Lou and Lily Pad, also have a hilly play area near the tea house, so their energy is added to ours, and vice-versa. This is a happy place, a safe and comfortable place, and you are invited to enjoy the tea house as part of the classes, groups, workshops and retreats offered at Well Nest Chattanooga.
"Look into Nature, and then you will understand everything better." ~ Albert Einstein
"I firmly believe that nature brings solace in all troubles." ~Anne Frank